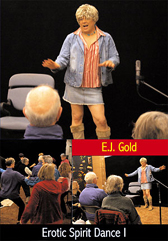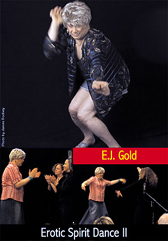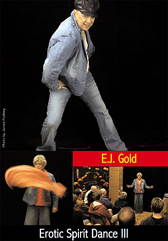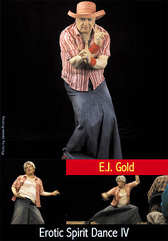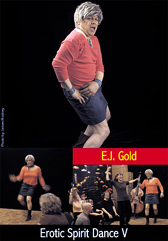 Spirit Dance #1
The Introductory DVD
Erotic Spirit Dance 01
Prod.ID: dvd177
Price: $24.95
On this DVD, E.J. Gold introduces us to Erotic Spirit Dance, ESD. Gold explains the nature of various energies. When energies have been improperly assigned or left behind, we need to pull them back into our selves, our energy fields, so they become available to us. As voyagers, we have left enery everywhere and we'll clean that trail up in the reverse order.
In our society, there is often automatic and incorrect intertwining of sexual and erotic energy. Erotic energy is a much higher level of energy. ESD properly belongs in the category of spiritual energy. E.J. Gold explains the difference between organic sex and Erotic Spirit Dance. E.J. introduces the beginning movement vocabulary for the purpose of pulling back the erotic energies we left scattered behind. We will be dancing ourselves back into the spaces we have been before, looking to recover the erotic energy incorrectly assigned to them. E.J. Gold gives the means as well to take back the energy from past incidences of violation and rape, considering the choices you made as the voyager.
Start exploring Erotic Spirit Dance. The spirit is erotic. The erotic part is not in the dance, it's in the spirit. Learn the alphabet, which is to stay in beat, as E.J. gives several demonstrations, showing how to bring back the movements to your self to the rhythm of the music.
This is the introductory DVD on ESD. No prerequisite is required.