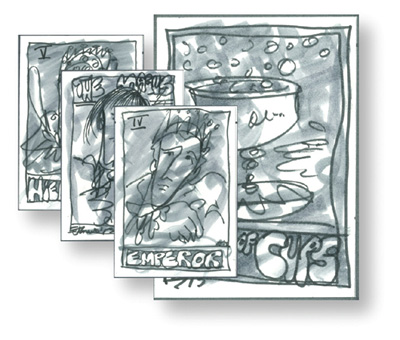 Gorby's Mystic Tarot
created by E.J. Gold completely handmade in studio
"A sort of Dutch/Flemish romp in the realm of tarot."
78 card full color black and white Tarot Deck with ink and wash art by E.J. Gold
After so many years of being asked to produce a Tarot Deck E.J. Gold has finally done it! Made completely by hand in his studio at least for the time being. These cards are endowed with the Magician's Magic. Get them now while this is the case. In the future when they go to press that will have changed.
"I just received my deck today. It's more than wonderful and I'm so happy to have it. Thanks for getting it to me so quickly, Yanesh."
This is the first time I have set out the cards. I had minimal difficulty translating my chart for the layout and felt that the reading was quite spot on. Several cards I do not know the "meaning" of but the mystic deck reads very well on its own and I am just holding them as questions, studying the cards. The significance of a few of the card positions also still unclear but I get the impression that the layout is framing a situation which I can "grok" without getting all worried about the details. Translating over to Cleopatra I felt a real connection. Coming from her did seem to clarify the questions. A very nice combination. Thank you."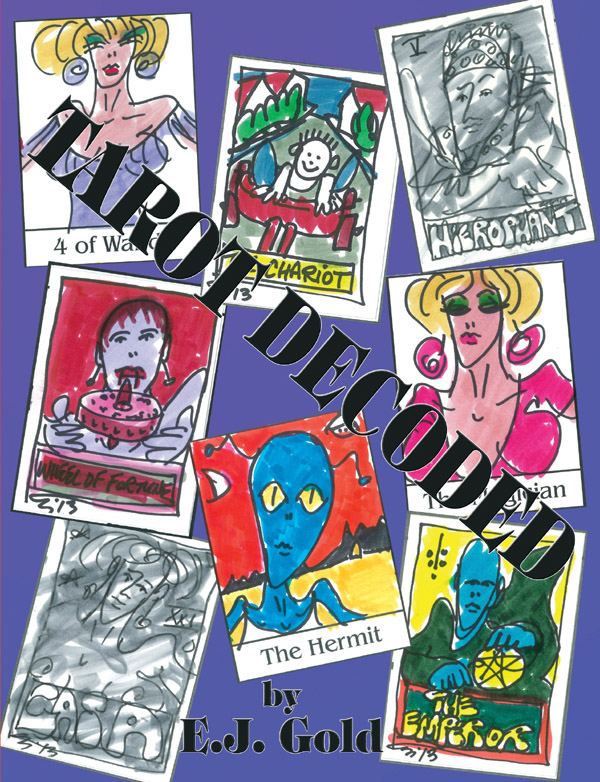 You can learn to use the tarot as a tool of guidance, as a tool of initiation, self-revelation and self-study, because it is a tool for self-study. You can learn a lot about yourself, not by studying it, not fotune telling with it, but by using it as a revelatory tool, a tool that will help trigger off revelations for you, not that the tarot itself will anything to you. But it's a great triggering tool, and if it's used really well.if you have both the art and the science.it will serve you well.
Visit Gateways for more information or to purchase the book. On Gateways you'll also find a complete Introduction and Table of Contents.