IDHHB Music ...
From E.J. Gold's
Music 4 Morons Workshop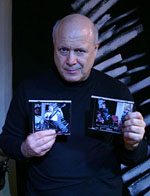 Blues Basics
Blues Basics & Blues Basics Demo
CD set -- CDM305
Price: $34.95
Practice what you learned in the workshop by playing along with the Blues Basics tracks; listen to what EJ does with a harmonica and those same tracks on the Blues Basics Demo CD. Get the set of two for $34.95 or buy either one separately for $19.95.
What a great idea. Thank you, EJ, for giving me a way to practice!
BH, Grass Valley, CA
At first I used the Basics, but then it was very helpful to hear the Demo to give me some idea how to phrase my playing.
AVH, Penn Valley, CA
It's so helpful to be given the keys that each track is in, so a dummie like me can get a grip on what harmonica to play.
JMC, Nevada City, CA
How fun!
Oz Fritz, Grammy-awarding winning recording engineer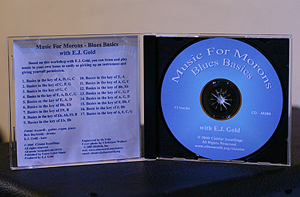 Blues Basics CD
CDM299
Price: $19.95
Just the basic tracks. 17 tracks. Liner notes give the keys the songs are in and also which harmonica can "play across" the key of the song.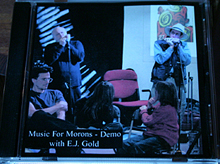 Blues Demo CD
CDM304
Price: $19.95
Find out how you can improve your playing by seeing what EJ does with those 17 tracks.