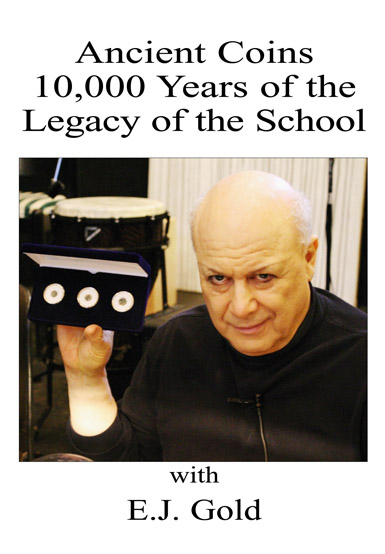 Ancient Coins -- 10,000 Years of the Legacy of the School
Inner Circle Workshop May 14, 2011
with E.J. Gold
DVD 268, 2-DVD set
$29.95
Running Time approx. 120 mins.
The legacy of the school is shown through closely examining ancient coins in this Inner Circle Workshop. With a close-up view from the camera, E.J. shows and describes the origins of coins starting with ancient Greece coins. E.J. selects coins first for their psychometric reads, secondly for their beauty to the eye, thirdly for their condition, fourthly for the content of the coin and only lastly considering the price which isn't a consideration if it's in the affordable range.
E.J. has located coins following the path of the Pythagorean school of philosophy, medicine, physics and metaphysics as well as Asclepius. He shows coins from numerous ancient Mediterranean cultures as well as Byzantine, Islamic and ancient Judean coins including some from a hoard from the Knights of Templar.
Coins shown may trigger psychometric flashes in viewers.
"After the intensity of attention required in video taping this ICW focusing on capturing a close up view of these many ancient coins, this effort, I believe, acted as a trigger for an extended labyrinth voyage through a stream of many images seemingly moving through ancient settings." -- M.L.
Marvette says that in her opinion just watching this DVD will connect you to your psychic intuitive self.