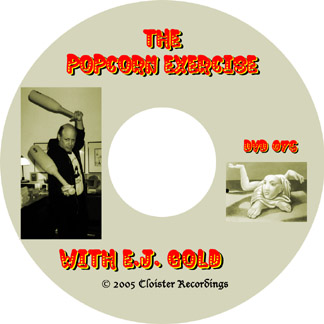 The Popcorn Exercise
with E.J. Gold
Price: $24.95
Approx. 60 minutes
The Popcorn Exercise is a classic at IDHHB. It is one of the tools that E.J. Gold has stated to be so effective that you could work with it alone to gain time in the waking state.
Presented here in DVD format, Gold shows exactly how it is done. He appears with a small group of students and guides them through the process on camera, sharing the benefit of his critique of their efforts.
In 1980 EJ presented this exercise to a core group working with him at the time. Years later these same students were comparing personal progress notes related to this important exercise. Turns out that few if any had a firm grasp of how to do the exercise.
Some progress was being made, but nothing like the results this explosive exercise can provide.
The lack of clarity and lackluster results was brought up in meeting. EJ instantly instructed us to setup for filming and "The Popcorn Exercise DVD" was born.
In this presentation EJ Gold gives full, complete, detailed instructions on how to perform the exercise. This includes the beginning steps and advanced work.
Available as Instant Download
This video is available as instand download. The file format is ISO.
The ISO format can be played by most of the common video players. In addition, you can burn it to DVD for play in external devices.