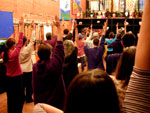 Morning Movements Workout for Beginners
Now available on DVD: 1 DVD: 15 minutes
Price: $24.95
The new series of movements, including the Afghani rhythmics, as presented by E.J. Gold to a small group of senior students, has been for years the morning exercise used by Core Group at 5:30 a.m. every morning.
Available as Instant Download
This video is available as instant download. The file format is MP4. The MP4 format can be played by most of the common video players.