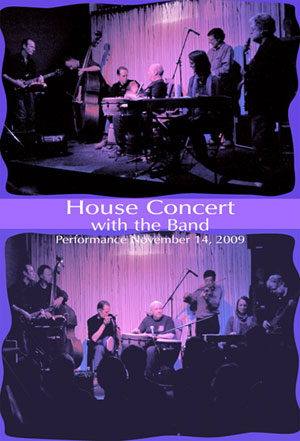 Musicians on front cover left to right: Jim Rodney, Matthias Schossig, Robbert Trice, E.J. Gold, Iven Lourie, Nancy Burns, Claude Needham.
House Concert
Performers: E.J. Gold, Nancy Burns-Trice, R.C. Trice, Iven Lourie, Matthias Schossig, Jim Rodney and Claude Needham
2 DVD Set | Approximately 120 minutes
Price: $24.95
"Thank you for inviting us to the concert Saturday - the most amazing experience I have had this year . . . I arrived completely stressed out from a week of intense personal drama. I had been distraught and distracted to the point where I could barely think . . . I knew that if I could get there the radiations would lift my depression and anxiety . . . Listening to Robbert and E.J. playing the flutes transported me right out of a chamber of doom into a space I never knew about. I saw the notes from the two flutes become little glowing spirits dancing around and through the players on the stage. All my old work friends were gathered there.
"The music from the second half put a grin on my face I still can't wipe off. I left with a sense of calm and well-being that is with me today as I start my week, plus a feeling of goodwill toward everyone. Thank you all for this amazing magical evening. I feel I have been transported from the hell world, where I had slipped, for some reason. I have no idea what happened or how they did this, but it was one of the peak experiences I have had in all my time with E.J. It was an extraordinary healing I really needed. All I can say is Wow! Thank you with all my heart." - N.T., Sacramento, CA