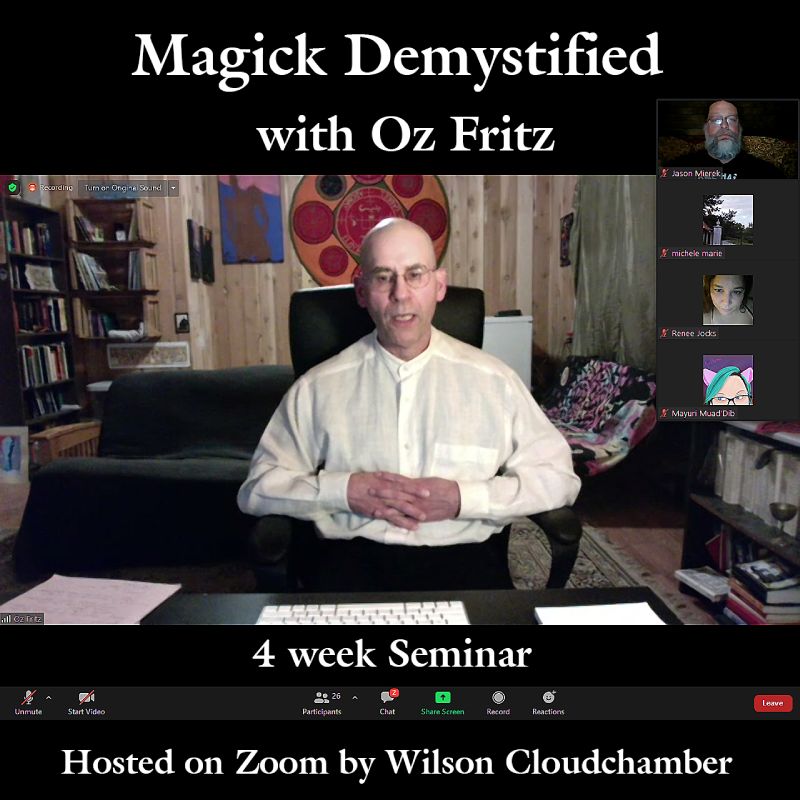 Magick Demystified
With Oz Fritz
Oz Fritz is a grammy-winning sound engineer currently based in Nevada City, California. He was introduced to magick through the writings of Robert Anton Wilson and Aleister Crowley. He has continued his esoteric experiments alongside the music. Oz has been working with E. J. Gold and the Institute for the Development of the Harmonious Human Being since 1990. At I.D.H.H.B. Oz learned the four powers of the Sphinx.
Available as Instant Download
These four video are available as instant download. The file format is MP4. The MP4 format can be played by most of the common video players.
Week 1: What is Magick?
Seminar Outline Week 1
Introduction - Oz Fritz's background in Magick and other spiritual lineages
Examining the question — What is Magick?
The Fundamental Principle — Gnothi Seauton / Know Thyself
The Scientific Method / Keeping A Diary of Experiments
Skepticism — A Gnostic Approach to Agnosticism
Essential Practical Steps:

Building a Foundation
Physical and Mental Discipline
Strengthening
Week 2: The Tools of Magick
Seminar Outline Week 2
Resources
The Four Elements - Fire, Water, Earth, and Air.
Magical Weapons
Creating A Space
Ritual

Definition / Function
How to put a ritual together
Week 3: Communication
Seminar Outline Week 3
Essential Factors

Understanding Signs
Coincidences & Synchronicities
Pattern Recognition
Creating a Lexicon

Qabalah and The Tree of Life
Exercising and Developing Intuition
Using Oracles
Discerning Signal from Noise
Week 4: The Knowledge and Conversation of the Holy Guardian Angel / Thelem
Seminar Outline Week 4
What is it? / How Do You Make Contact?
Creating A Spiritual Guide
How Do You Hold A Conversation with an Angel?
Reading Signs / Coincidences & Synchronicities Part 2
Meaning of the term Holy Guardian Angel
Philosophy
The Book of the Law