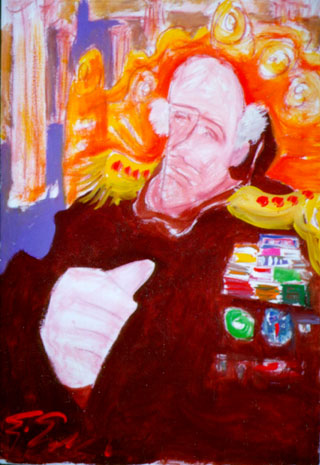 Painting of Gen. Nunan, one of the characters in Slimewars, by E.J. Gold.
SlimeWars
The epic semi-autobiographical novel by E.J. Gold
Price: $500.00. Hardbound.
Includes a complimentary
paperback
copy, a $90 value.
Handsomely bound in black with gold-embossed letters.
Author E.J. Gold says about SlimeWars:
My 350,000 word 740 page novel loosely based on my life story -- SlimeWars -- written some 22 years ago and never published, is now available.
SlimeWars is intended to be read aloud in groups. It has a special purpose, of stimulating various parts of lower and higher centers, from the moving/instinctive all the way to the highest essential centers, in chordal groupings and multi-level responsive interactions, in much the same way as the interwoven parts of an orchestral work would function for the stimulation of various parts of psycho-emotional and sometimes spiritual centers.
It also happens to be extremely funny, I'm told. The amusing aspect is that spoonful of sugar that makes the medicine go down; it's there to make the book fun to read, but is not the primary intention.
This book is NOT intended for the public. It is not, and was never, intended for public release. It is being offered to you with the understanding that you will use it for its primary purpose, that of awakening and activating the full spectrum of lower to higher psycho-emotional to spiritual centers in the reader and listeners.
Yours in The Work, ej gold
Reports from groups reading SlimeWars:
Another meeting has come and gone like the days that fleet past us. The difference being that our meetings are like high points, like moments held above water, above the ones that blend into the slush of memory like mud into snow, a stretch of time freed from the drivel of la vie ordinaire. Que magnifique! -- L.S., Los Angeles Group