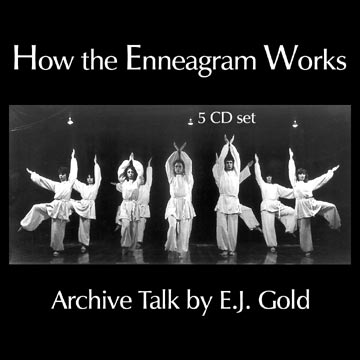 How the Enneagram Works
The Enneagram Workshop
5 CD set
$52.95
In the summer of 2003, E.J. Gold author of the American Book of the Dead and Alchemical Sex, presented a series of 4 weekend workshops. All 4 of these powerful, experiential weekends were recorded and video taped.
The first workshop entitled "How the Enneagram Works" is now available as a 5 CD-set for $52.95.
The following is a comprehensive summary of the Enneagram Workshop contributed by Oz Fritz, sound engineer and senior student of E.J. Gold.
How The Enneagram Works, a dynamic workshop presented by E. J. Gold looks at this unique figure of Sacred Geometry from several angles including:
-- where the Enneagram came from
-- how it works
-- practical applications for using the Enneagram in daily life
The workshop begins by defining Sacred Geometry as the correlation of magical activity with geometric form and looks at the magical properties of the circle.
Further on, it is stated that the Enneagram represents a musical scale, a musical notation system which leads to a thorough examination of the laws of the octave. These laws, which seem to govern all cyclic processes, are most easily understood by studying how they work in music. Knowledge of music theory is not required to grasp the basics of these principles.
There is a discussion of how sound waves interact and that this interaction, when viewed through the lens of the Enneagram, is seen to be folding and unfolding like Japanese origami paper art or like a lotus flower folding in on itself. This lotus flower aspect of the Enneagram is said to be the remnants of a teaching that came through Tibet, Bhutan and Northern India some 10,000 - 20,000 years ago. It is similar to finding the jewel in the lotus.
The Enneagram can be used invocationally, experientially or to explain things. An invocational example given is "Creation Story Verbatim," a play that was intentionally written to conform with the laws of the octave.
Creation Story Verbatim is available as a 2 CD-set from Cloister Recordings. A brief excerpt of it is presented here along with discussion and an explanation of the play's relationship to the octave.
Another practical demonstration of the Enneagram in action is given through the example of drumming.
Other topics covered are:
-- how we create our own simulations of reality
-- the pixel model of attention points
-- modern theories of Quantum Physics and the Enneagram

This workshop also seeks to dispel some of the mythology surrounding the Enneagram.
And finally, not suprising from a workshop with Mr. Gold, it is not without its share of insightful humor. As he states right at the top: "What is an enneagram? The answer is, of course, yes."