March, 2021 Bardo Buzz (03-03)
Secrets of the Sufi Way
E.J. Gold
THE SACRIFICE OF TENDENCIES
Life of Ritual
When we are with an individual who is in the
Corridor of Madness
, we must be able to be with that individual continually, without falling asleep. In the
Corridor of Madness,
it is not a matter of what one does or knows, but of remaining awake throughout the experience.
One must learn to be constant to the task or work -- this is something which must be cultivated within oneself. It is the imaginary ability that holds one down, for it prevents the real ability from being developed.
Keeping oneself or another awake is like the passenger in the automobile who must keep the driver alert on a long and seemingly endless journey. One may sing, tell stories or poke him -- one does for him whatever is possible.
To make this sacrifice, one lives a completely ritualized existence, making all Obligatory Observances and Purifications.
One wears vestments at all times, and eats only special food which has been dedicated and blessed. One sits in the temple while eating. Food is taken within the sanctuary of the Holy Ark. One performs vigil with this food. Sleep, dress, eating, movement and toilet are all performed as ritual purifications. One is obligated only to perform rituals and may not work for the household in ordinary tasks.
to be continued...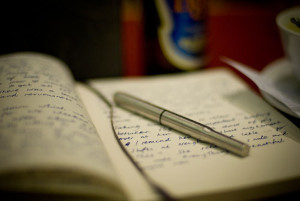 JOURNAL SNIPPETS
Barbara Haynes
I was looking through some old journals recently and discovered some wonderful quotes and a couple of self- observations, which
I have used over the years to help me on my spiritual journey. I'm a collector of quotes, so there are lots more in my journals, but I wanted to share some of my favorites with you. I hope you find them thought-provoking and inspiring.

"Always and always I am looking for your face. I find you only when I do not search. Waiting, waiting -- waiting in stillness and silence. Waiting and not forgetting. Uncover my eyes for I am helpless and rely only on your grace." -- Barbara - 1987
"It's hard work, this paying attention. I forget and often fall head long into the play before me. Believing I am what I see, feel, think and hear -- on and on." -- Barbara -- 1987
"It isn't what's happening that is the problem. It's your reaction to it." -- E.J. Gold
"You are not upset because of external circumstances; you are upset because you are upsettable." Buddha
"You can't change what is, but you can learn to like it." -- E.J. Gold
"The secret of observation is patience." -- from Dorsai by Gordon Dickson
"Even a mirror will not show you yourself if you do not wish to see." -- from Lord of Light by Roger Zelazny
"Mastery requires the ability to sustain commitment." -- Unknown
"In the beginning is the attitude. Everything else will follow." -- Unknown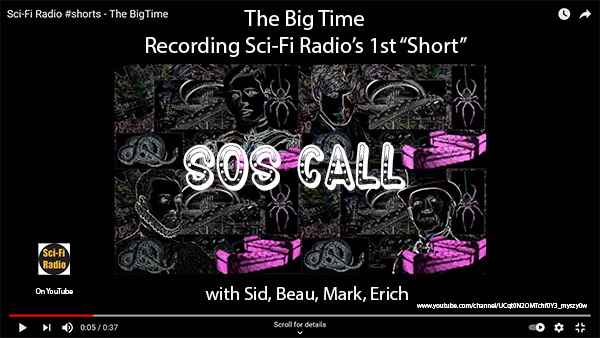 Each character's individual "The Big Time" background was designed by Gailyn Porter for the Zoom presentation by Sci-Fi Radio Theater of this classic sci-fi story by Fritz Leiber.
MUSINGS OF A LABYRINTH READER
Responding to the Teacher
Marvette Kort
A teacher is one who guides you into engaging work conditions within the fabric of your life. E.J. Gold has been providing seemingly endless work projects for those within the sphere of his influence for half a century. Accepting a creative challenge he presents is filled with learning on many levels from practical skills in business, marketing, technology, to inner skills related to self-study and esoteric understanding.

E.J. is currently experimenting and making "Shorts" for YouTube. These videos are under 60 seconds and vertical in format. He has encouraged the group of people who meet with him on Zoom daily at 6:30 a.m. PST as well as those who read his blogs on http://www.gorebaggsworld.com/ to join in and "try their hand" at making and posting "Shorts".

We've been given guiding principles to apply to such work projects such as "Get in the Flow", "Pass along the Blessings", "Participate and Be of Service". The magic of creative work flow happens in the moment. Your attention just needs to be there to witness it. Yesterday was such a day for me.

Sci-fi Radio Theater, who perform sci-fi stories in Zoom and later post them on YouTube, was on my screen rehearsing for this Sunday's bi-monthly performance. E.J. walked past my desk and suggested making a Short with The Big Time, the sci-fi story we are currently presenting. I responded with a puzzled look and replied that I didn't know. He came back with acknowledging me and proffered -- Take it to the group.

Within the transition of turning my full attention back to the group on my screen, the flood gates opened. I instantly saw the ideal segment for the "Short" and recognized a practical purpose for the new additional project. I presented this idea and identified the characters, their dialogue and the context.

The group embraced it. And within 24 hours, Sci-Fi Radio Theater had posted their first "Short" on our Sci-Fi Radio YouTube channel -- https://www.youtube.com/channel/UCqt0N2OMTchf0Y3_myszy0w.
We have placed our first bet in the "Shorts Game" and made the effort to pass the Blessings on.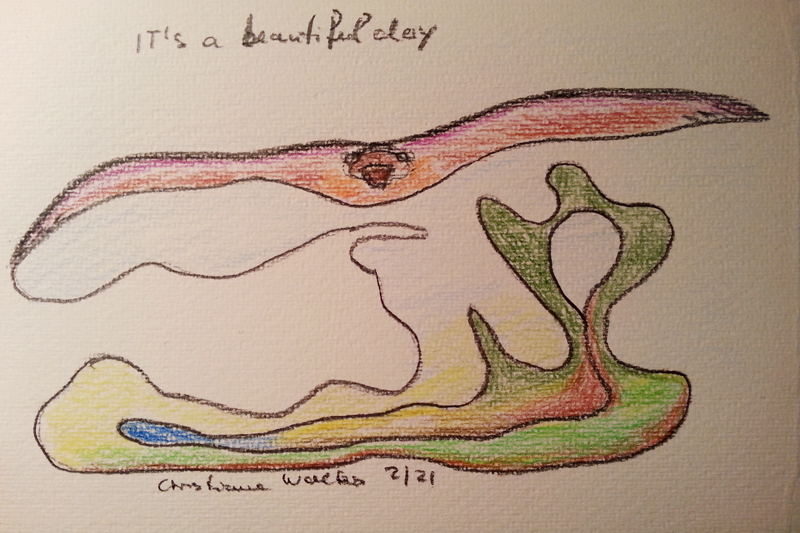 IT IS A GOOD DAY
Christiane Wolters
How can we become dispensers of greater and greater capacity, receive and give in an constant flow, nodal points of divine energy with it's infinite properties, complex systems capable of Self awareness created to experience what we call life, in-breath and out-breath, giving and receiving, allowing energy to move, circulating it in all it's forms, not hoarding or holding on, not contracted but open in all the different worlds?
No matter what, investigation seems to always return to deeper self observation, self knowledge and being with what is, presence -- and being both able and willing to allow the energetic movement to happen. Swirling patterns of light flowing through an organized organic system, in our case humans. Creativity is one thing, co-creativity with the divine presence and will is another level. Yes, it does have to do with surrender, and that prayer a lot of Christians grew up with, this "Thy will be done" there really is something to that that is true and a different level, a level where it does not trigger egoic considerations.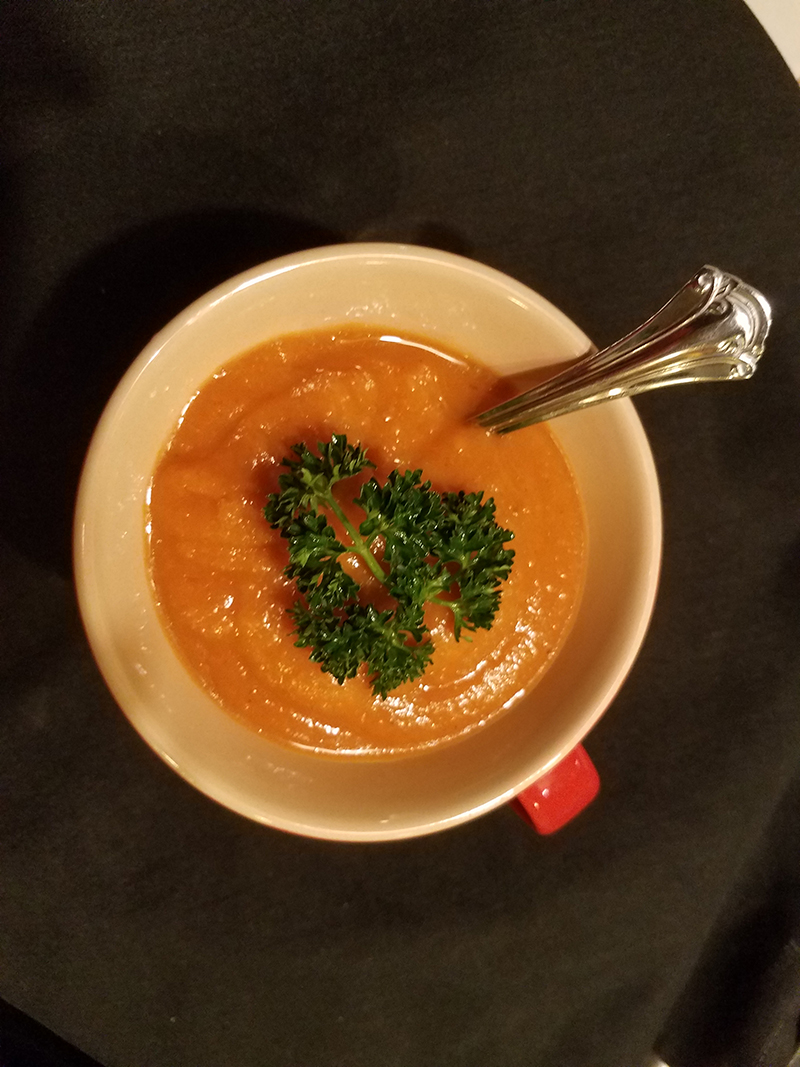 THE GURU'S STEW
Jewel McInroy
The following is the recipe for stew which E.J. enjoys during his work sessions at night. It is yummy and nutritious. This recipe will make (7) 12 oz servings and will keep refrigerated in a sealed glass container for 3 days.
6 C peeled and diagonally sliced carrots
2 C peeled and diagonally sliced celery
1 lg bunch of fresh parsley
Cover with fresh water and simmer gently for 2 hours
The water should be slightly below the surface when cooked.
2 C Anasazi beans - soak overnight then cook for 4 hours until soft
1 C bean broth (from the above beans)
1 medium sized cooked Hannah Sweet Potato
2/3 C chicken stock
½ medium sized Japanese Sweet Potato cut in bite-size cubes and steamed
1 medium sized Jerusalem Artichoke cut in small cubes and steamed

Directions
In a Vita-Mixer (or blender), put all the cooked carrot/celery mixture (remove the parsley first)
Add 2 C of the cooked beans and 1 C juice and blend until smooth. Pour into a large pot
Mash the cooked Hannah Sweet potato with warmed chicken stock using a dinner fork until it has a mashed potato and gravy soupy, slightly lumpy consistency
Whisk that into your blended mixture
Add the cooked chopped Japanese Sweet and Jerusalem Artichoke and gently stir. Cooked green peas and green beans also make a nice addition. E.J. likes them both.
Serve hot
And voila -- Guru's stew is ready for you. Bon appetit!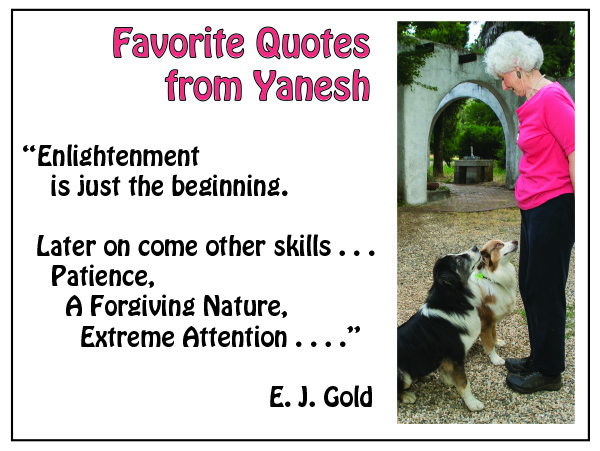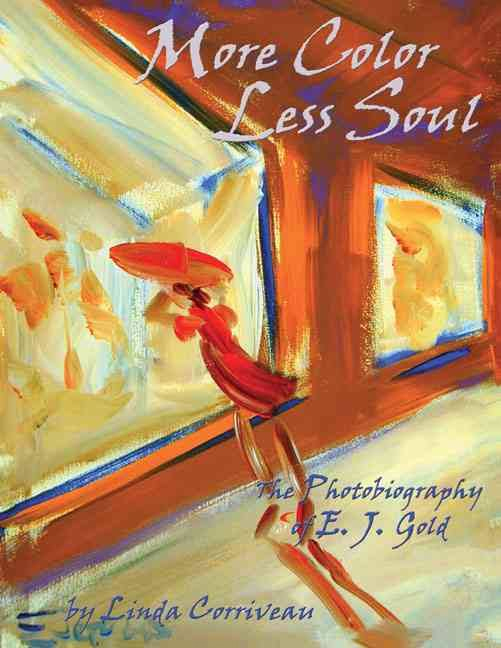 MULTIPLAYER ONLINE VIDEO GAMING AS A POWERFUL BARDO TRAINING TOOL
The convention in 2004 marked discovery and use of a new online multiplayer game that would serve as a powerful Bardo Training tool for the next decade. In fact, it is still in active use. A worldwide community of participants from many countries around the world continue to work live, online, with this method.
E.J. Gold, being a unique combination of game developer and spiritual teacher, determined that the game Diablo 2 (D2) was well-suited as a Bardo Training tool -- especially to train certain aspects of voyaging as a group.
Eventually, the term PoG (Pack of Green) became a well-known term amongst those initiated through this particular training tool.
Other games were explored, but nothing came close to D2 in terms of usability for Bardo Training, except Quake and Team Fortress (TF), which came back onto the videogame market and into Bardo Training focus for a few years, which meant a whole other level of very intense online Multiplayer Training.
Online safaris (is our name for a two-hour structured class) have been happening several times a week, since 2004. This continues even now.
"This is Bardo Training as it applies to you and your particular and personal Bardo Run habits. This is not a game, this is Bardo Training," says E.J. Gold. "The training is available to anyone who wants it."
Due to a unique combination of factors at this point in time, there is the technology, interest and freedom necessary for this level of Bardo Training. It is the most incredible opportunity for any Bardo traveler, never before available in human history.
For a few years, what came to mind when hearing the words Bardo Training was this form of online work, even though we are always in the Bardo and the tools for Bardo Training vary and are too numerous to count.
This form of Bardo Training safaris took a big role in working together with others for a number of years. What a challenge and what fun it was It was also used in LRS runs. The PoG work has become an established term and form of Bardo Training at the Institute.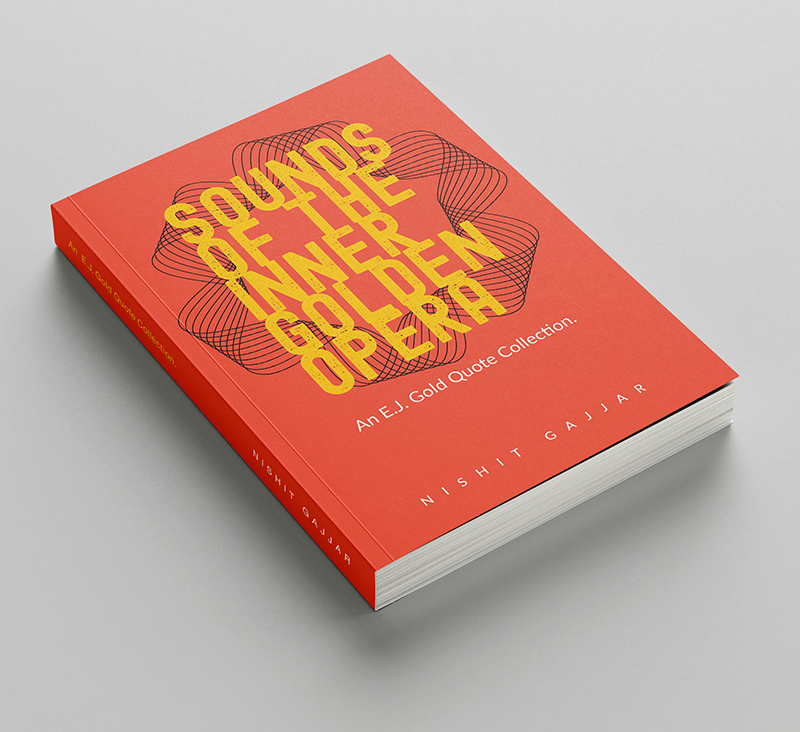 Nishit Gajjar
Well, I never imagined in my dreams that I would write a post like this"¦! Praise to the mercy of guides and Influence C in their attempts to tune this "person" who is humbled to announce a new book published by Gateways books and tapes and the IDHHB community.
Sounds of the Inner Golden Opera - An E.J. Gold Quote Collection book contains glimpses of insights and is a result of following my teacher, E.J. Gold's work. Not a single day has passed in the last few years when this Golden Buddha in Black attire - Mr. Gold - was not in my awareness, actively or passively. Many appreciate my creativity due to the achievements in my professional life. But in my opinion, the designer of this book, Niralee K., is the most creative individual and designer that I have ever come across. Endless cycles of prototypes, designing and re-designing, discussions, researching and what not has made this book possible.

But above all, the support from IDHHB Cloister Members, the grace of Vasudev Krishna and the blessings of Mr. Gold have brought forth this project for all of us.

According to me, it is an art book that contains illustrated quotations of E.J. Gold. And as a bonus, it also contains a never before publicly released photograph of E.J. Gold! Please read this book, dive into it, let it work on you. The quotations and the illustrations will aid the reader for sure.

As Buddha said, "Bhiksu empty the boat!"

Be open and let this book help you. Support IDHHB and our efforts by buying this book, sharing this book, gifting this book and spreading the word about this book.

Together we can help each other!