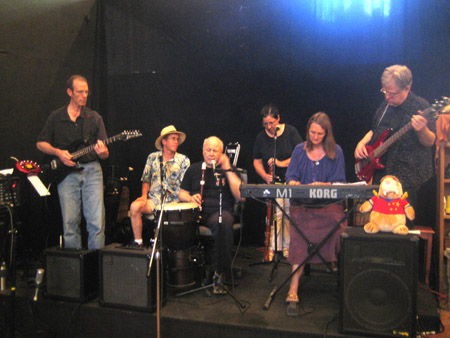 E.J. Gold's House Band, FAXL. Members include R.C. Trice, Nancy Burns Trice, Claude Needham, Iven Lourie, Jim Rodney, Tabatha Jones, E.J. Gold
Live Concerts
with E.J. Gold & Friends
If today is Monday, and if it is between 4:00pm and 6:00pm pacific time, then get yourself on over to GorebaggTV and Watch Faxl Now. They broadcast rehersals LIVE! each week.
Every practice is different. The sound depends on the number of band members that make the gig. Each member adds their own flavor to the mix. So, sometimes it's Santana-ish, sometimes 50s rock, sometimes Zen Koto, sometimes folk, sometimes something that you'd normally hear at a local venue in Alpha Centuri.
Join us and find out what it is this week! We'll find out together.