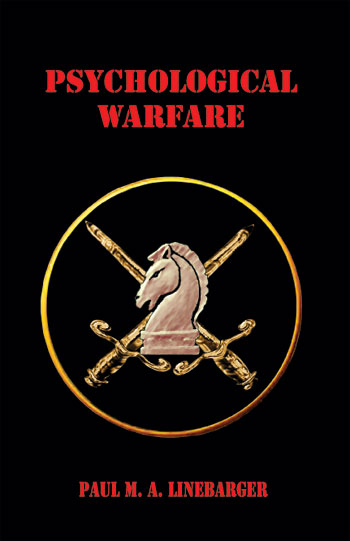 Psychological Warfare
by Paul M.A. Linebarger
$29.95
"Psychological warfare is waged before, during, and after war; it is not waged against the opposing psychological warfare operators; it is not controlled by the laws, usages, and customs of war; and it cannot be defined in terms of terrain, order of battle, or named engagements. It is a continuous process. Success or failure is often known only months or years after the execution of the operation. Yet success, though incalculable, can be overwhelming; and failure, though undetectable, can be mortal.
"Psychological warfare does not fit readily into familiar concepts of war. Military science owes much of its precision and definiteness to its dealing with a well defined subject, the application of organized lawful violence. The officer or soldier can usually undertake his task of applying mass violence without having to determine upon the enemy. The opening of war, recognition of neutrals, the listing of enemies, proclamation of peace-such problems are considered political, and outside the responsibility of the soldier. Even in the application of force short of war, the soldier proceeds only when the character of the military operation is prescribed by higher (that is, political) authorities, and after the enemies are defined by lawful and authoritative command. In one field only, psychological warfare, is there endless uncertainty as to the very nature of the operation.
"Psychological warfare, by the nature of its instruments and its mission, begins long before the declaration of war. Psychological warfare continues after overt hostilities have stopped. The enemy often avoids identifying himself in psychological warfare; much of the time, he is disguised as the voice of home, of God, of the church, of the friendly press. Offensively, the psychological warfare operator must fight antagonists who never answer back-the enemy audience. He cannot fight the one enemy who is in plain sight, the hostile psychological warfare operator, because the hostile operator is greedily receptive to attack. Neither success nor defeat are measurable factors. Psychological strategy is planned along the edge of nightmare." (Excerpt from Chapter One). More info ...