For Work Circle Members only
Brane-Power® Chocolate from E.J. Gold
Magic Mojo Truffles
Handmade by E.J. Gold, these solid semi-sweet dark Dutch chocolates are a full 45 grams of scrumptiousness which carry within them a double Blessing. Save on shipping when you get multiples.
4 Magic Mojo Truffles $20
4 Magic Mojo Truffles for $20.
Fine Art Box of 4 Magic Mojo Truffles for $70
Box of 4 Magic Mojo Truffles in Pencil-Signed Original Art One-of-a-Kind Handpainted Handmade Watercolor Box by E.J. Gold for $70.
YOU CAN SAVE $5 OR MORE ON SHIPPING.
If you order 8, 12 or 16 Magic Truffles at a time, you save from $5 to $20 in shipping! Packing cost is reduced, too, when they're packed into multiple boxes!!! A box of 8, 12 or 16 truffles costs only $2 in packing fees!!! Take advantage of the savings by ordering multiples of 4 -- the high cost is all in the packing and shipping!!! The more you order, the more money you save!
Magic Mojo Truffles Brane-Power® Chocolate from E.J. Gold
Magic Mojo Truffle
E.J. Gold's dark Dutch delicious chocolate prasad with dusting of cocoa powder.
Chocolate Stress Reduction. According to many reports in the media, medical wisdom these days recommends 2.5 ounces a day of dark chocolate for stress reduction. Stress is a common cause of health issues. In addition, some medical sources say that chocolate can be an effective "brain food" and that I.Q. might be improved by the ingestion of a small amount of chocolate each day, on the order of, say, one Magic Truffle???
Certified Sustainable. Protecting soil, water and wildlife resources, supporting family farms and farmers, stricter standards than merely organic, our chocolates are strictly Kosher (Pareve), safe and fair working conditions & wages.
"It's not just treats, they're spiritual treats. They're sweet and solid, made the way Barton's and Barricini made them 50 years ago." -- Brane-Power® Founder & Chocolate Obsessions Chocolatier E.J. Gold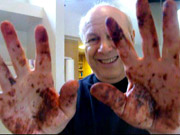 Chef E.J. Gold gets his hands in the chocolate.
"This is the best chocolate I have had in years, if not the best ever. And I have loved chocolate all my life, so this is not a casual statement. It was bitter -- but not too bitter, it was dense -- the way I like chocolate, it had a delicious taste and was just the right combination of bitter and sweet. Yummmmmmm. Plus, of course, anyone you would like to have a sweet hit of school energy." -- Texasrosie, aka Rev. Roselyn Gander, Penn Valley, CA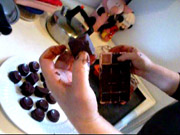 A selection of Magic Mojo Truffles handmade by E.J. Gold.